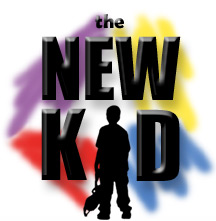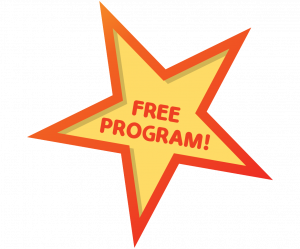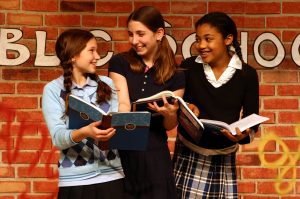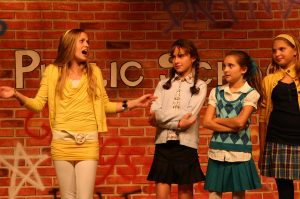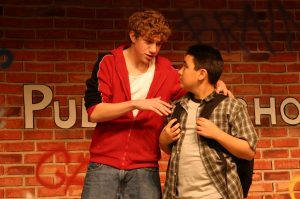 "The New Kid", a crowd-favorite at Random Farms, began touring to local schools in 2008 and has been seen by over 30,000 students.  This hour-long touring musical, with a cast comprised entirely of children, deals with themes like bullying, hazing, cliques and peer pressure at a middle school. It is FREE to participate if cast. Learn more about the show, including how to bring it to your child's school.
AUDITION DATES
COMING SOON
NOTE: Please review program schedule and policies before registering for an audition.
AUDITION PREPARATION
For the audition, children will be asked to sing a shortcut of the audition songs.  Boys will be asked to sing a shortcut from the song, "The New Kid." Girls will be asked to sing a shortcut from the song, "Just Be Yourself." Auditioners will also be taught a short dance combination. The audition materials folder below includes Lyrics, Sheet Music, and both a Vocal and Karaoke track of the Audition Material. The Vocal track should be used to practice and prepare. The Karaoke track is what will be used at the auditions.
Character Breakdown (available roles and character summary)
Audition Material
Audition Tracks
Audition Sheet Music
AUDITION & REHEARSAL LOCATION
The Random Farms Studio
77 Executive Blvd
Elmsford, NY 10523
CALLBACK DATE
COMING SOON
CALLBACK AUDITION MATERIAL
Callbacks will take place on Monday, June 17th @ 4:00pm-8:30pm. A callback list will be emailed out to all auditioners at the end of auditions. The callback materials below are labeled "Callback Music" and "Callback Monologues." The Callback Music is organized in folders labeled by Character Name. Simply click the folder with the character's name on it, and you will find the callback music materials for that character within that folder.  The Callback Monologue document lists all callback monologues on one sheet.  Depending on the character(s) you are called back for, you may be asked to sing, read a monologue, or both.  So please be sure to look over all materials (including the monologue document) if you are called back. (The sheet music is also provided if you find that useful to help you prepare.) We are not calling back for all roles and not all auditioners will receive a callback.
Callback Music
Callback Monologues
REHEARSAL & PERFORMANCE SCHEDULE
COMING SOON
WHAT TO BRING
1. Recent photo (a snapshot or school photo is fine)
2. Resume or list of training/experience. If you don't have a resume, that's okay! You can just fill out the audition form online when you register. If you would like to try making up a resume, here are some samples to use as a guide:  Resume Template 1    |    Resume Template 2
QUESTIONS?
Program: tracey@randomfarms.com
Registration: registrationsupport@randomfarms.com
PROGRAM INFORMATION
ELIGIBILITY
No prior training or experience with Random Farms is required and we welcome newcomers, whether they have been performing for 10 years or 10 days. Since this is an audition-based program, not everyone will be selected, so performers should be prepared for that if they decide to try out.
REHEARSAL & PERFORMANCE DATES
There will be two casts, A and B, which will rehearse both together and separately. A performer is only called when his/her role is rehearsing.  Rehearsals begin Tuesday, September 3rd at Random Farms Studio in Elmsford.
Mandatory Cast member / Parent Orientation meeting:
Tuesday, September 3rd @ 8:00pm – 8:45pm at our Random Farms Studio in Elmsford.
Run Thrus / Dress Rehearsals at Random Farms:
Cast A – Thursday, September 26 and Saturday, September 28
Cast B – Friday, September 27 and Saturday, September 28
3 TBD morning shows on school days in the fall and 3 TBD morning shows on schooldays in the spring. Locations are TBD but will be located within 1 hour of central Westchester.
Performances will take place between October 1 and November 30 in the fall and between March 15 and April 30 in the spring. There will also be 2-3 brush up rehearsals scheduled in March before spring performances begin.
COMMITMENT & PARTICIPATION POLICY
Participants must be able to miss 3 half days of school during the fall and 3 half days of school during the spring and must attend fall rehearsals and spring brush-ups. Parents are responsible for providing their child's transportation to the show venues. If a participant cannot attend a performance or rehearsal, parents are responsible for contacting the participant's counterpart in advance, to try to arrange for a cover or switch. If a participant misses a show or rehearsal, continuation in the program will be at Random Farms' discretion. If cast, there is no cost to participate, however, a $7.95 processing fee will be incurred. If cast, there is also a security deposit of $250.  This is returned upon completion of all scheduled rehearsals and performances.  Please note the security deposit will not be returned if a child needs to be replaced after the cast list has been posted (either due to missed rehearsals, not accepting a role after being cast, or dropping out of the program).  Participants who do not comply with this Participation Policy may be removed from the program and their account put On Hold, as described in Random Farms' Standard Agreement, until parents, participant and Random Farms can reach an agreement moving forward.
STANDARD AGREEMENT
Please be sure to read our Standard Agreement prior to registering.
SUPPORT
The continuation of this beloved program is made possible, in part, by The Alexander Family, The Degan Family, The Kempler Family, The Kitchin Family, The Reinmann Family, The Schlosser Family, Dan Rosenthal and Avery Sheffield, BLH Productions, and The Alvarez Foundation. Additional support provided by All County Bus LLC, The Batheja Family, The Best Family, The Goldstein Family, Morgan and Heather Hecht, The Ng Family, The Samios Family, The Scheir Family, and The Zahl Family. To find out how you can contribute to next year's "New Kid" production, email  Anya Wallach.